Article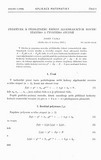 Full entry |

PDF (1.6 MB)
Feedback
Keywords:
numerical analysis
[1] Čuřík F.: Technický průvodce MATEMATIKA. Česká matice technická, Praha 1944, str. 293-297.
[2] Láska V., Hruška V.: Teorie a praxe numerického počítání. Jednota českoslov. matematiků a fysiků, Praha 1934, str. 277-283.
[3] Крыжановский O. M.:
Об итерационном методе определения приближенных значений корней уравнений
. Автоматика и телемеханика 11 (1950), No 5, str. 347-360.
Zbl 1157.76305
[4] Shih-Nge Lin:
A Method of Successive Approximations of Evaluating the Real and Complex Roots of Cubic and Higher Order Equations
. Journal of Mathematics and Physics 20 (1941), č. 3, str. 231-242.
DOI 10.1002/sapm1941201231
|
MR 0005435