Article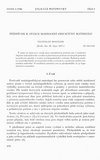 Full entry |

PDF (1.6 MB)
Feedback
Keywords:
theoretical physics; mechanics of solids
[1] Scheil E.: Statistische Gefügenuntersuchungen. Zeitschrift für Metallkunde 1935 (str. 199) a 1936 (str. 340).
[2] Fullman R. L.: Measurement of Particle Sizes in Opaque Bodies. Journal of Metals, 1953, March.
[3] Салтыков:
Введение в стереометрическую металографию
. Издательство Академии паук армянской CCP, Ереван, 1950.
Zbl 1157.76305
[4] Drápal S., Horálek V.: Některé vztahy mezi rovinnými a prostorovými parametry struktury materiálu. (dosud nepublikováno).